Carmichael enjoying debut season with HTCC and Sabina in England
Guyana Chronicle article.
Georgetown, Guyana - Malteenoes Sports Club all-rounder Kellon Carmichael is enjoying a bumper debut season with Hadleigh and Thundersley Cricket Club (HTCC) in England, having racked up 720 runs inclusive of an unbeaten ton and taken 64 wickets with a best of 7 for 16.
In an invited comment with Chronicle Sport via the social medium www.facebook.com, the 25-year-old Carmichael, who was also a member of the victorious Guyana Under-19 team that won the West Indies Cricket Board Regional championships in 2007, said it has been a wonderful experience for him.
He has chalked up two unbeaten innings from the 27 times he strolled to the middle to bat for HTCC and Sabina Cricket Club, with one of them being an even 100 against Coventry while playing for Sabina and got another unbeaten ton, 111, in a mid-week practice game against Belhus Cricket Club.
His best bowling figures were recorded against Bardoli Cricket Club who were at the time playing against HTCC.
"So far it has been a wonderful experience for me. I've learnt a whole lot especially in the batting aspect, since it was very hard for me to score runs when the season started but as I got familiar with the conditions it became a bit easier for me.
"I must say I'm disappointed a bit because I missed out in scoring some big runs at times, as I got out in the 40s six times and once in the 70s when I knew I could have pressed on and gotten many more runs for my team and myself," said Carmichael.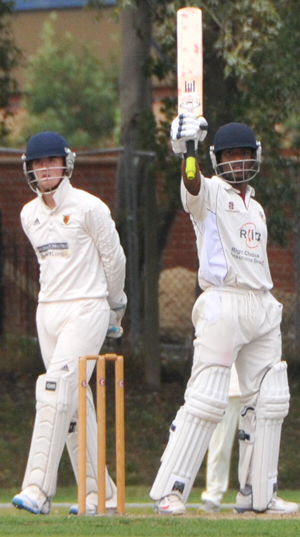 He added, "My bowling has been outstanding so far. I am the leading wicket-taker for both teams that I have represented thus far, since I took 45 wickets for HTCC from 22 games and 19 from 7 games for Sabina.
As I said earlier, the conditions here are very conducive for my bowling and my consistency has helped me a lot with my success with the ball, for which I am thankful."
Quizzed on his ambitions while in England, Carmichael, like so many local cricketers who would have gone overseas to represent their adopted clubs, said he is looking to ensure both HTCC and Sabina finish in the top three of their respective leagues.
"With the season coming to an end my main goal is to help the two teams I play for finish in the top three in their respective leagues and at the moment, HTCC is currently in third position in the Essex Shepherd and Neame division one league.
As for Sabina, they are currently in the second position in the South London division one Sunday League, with the possibility of taking that title being great, once we win our last two games, for which I am hoping to help them do by continuing with the rich vein of form that I am presently in."
On the local scene, Carmichael is hoping to break into Guyana's Regional four-day side for this year end, WICB Regional four-day first class season, while he hopes the selectors will see things his way, since he will be missing the Demerara trials scheduled for later in the week at Everest Cricket Club ground, due to his overseas commitments with both HTCC and Sabina.
First Published In The Guyana Chronicle.
Category: